Welcome To
Westosha
Veterinary Hospital
We are committed to promoting responsible pet ownership and preventative healthcare.
Book An Appointment
Download App
Kenosha County Veterinary Care
The Westosha Veterinary Hospital staff strives to provide high quality medicine and surgery in a compassionate manner to our patients.
Our goal is to educate owners to make the best possible choices for their pets and to develop long-lasting relationships with our patients, their owners, and our community.
About Us
Take A Tour
We Are A Certified Cat-Friendly Practice
We are proud to be a certified Cat-Friendly Practice, Certified by the American Association of Feline Practitioners.
As a Cat-Friendly Practice, we take extra steps to provide the best care and experience for you and your cat. These practices demonstrate gentle handling methods, a feline-friendly environment, and the appropriate equipment to treat feline patients.
Comprehensive Care
Our Services
We offer a wide range of services including medical, diagnostic, surgical, wellness and preventive health care needs for your pets so they live healthy, happy lives.
Convenient Care
Online Pharmacy
Shop our online pharmacy! Safe, reliable, and affordable pet care products conveniently delivered to your door.
Education & Pet Health
Pet Health Library
We provide a library of professionally written articles updated and reviewed by practice experts to bring you the most up-to-date pet health information.
See Our
Announcements
Scroll through to see what's going on at our veterinary hospital.
Testimonials
I have had years of different vets for my many cats. This hospital rates number 1 on my list. I loved everyone and the wonderful care of both my cat and me!

Wendy M.
The care and compassion is amazing. I'm so glad I found this wonderful team!

Kathy N.
Dr. Wellens and Danielle are a wonderful team with Holly, Eli, and Sasha! They are very warm, compassionate, and loving. Everyone that has ever cared for our pets at Westosha is awesome!

Debbie M.
I am beyond pleased with the staff at Westosha Veterinary Hospital. My boys are my world and I know that they are receiving the absolute best care.

Christine M.
The time spent with really understanding and investigating what was going on with my pet was outstanding. I greatly appreciate the professionalism and expertise shown.

Steve L.
Each and every time we visit, our dog receives the best care available. The staff on all levels show compassion, and we get the feeling the clinic truly enjoys their work and service to the patients and parents.

James S.
I have been a client for over 23 years. They have cared very well for the six most precious lives I will have ever known.

Charlene L.
You are lifesavers! Thank you from the bottom of our canine hearts! You always give us great service! You are very conscientious!

Gary and Joanie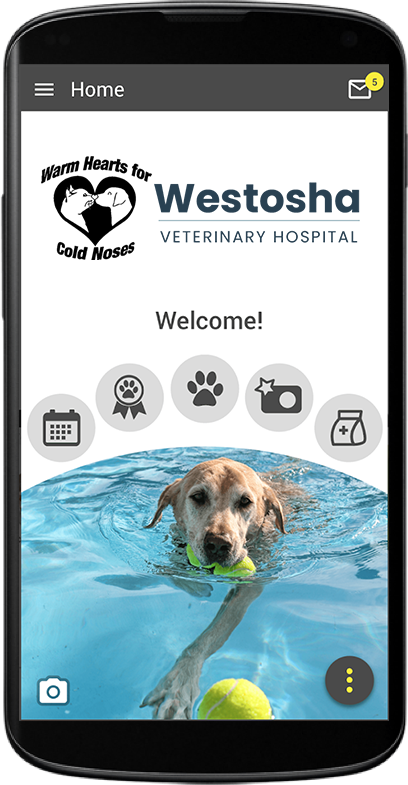 Google Play Store
App Store
Our Hours
Monday- Thursday:
8:00 am – 8:00 pm
Friday: 8:00 am – 5:00 pm
Saturday: 8:00 am – 12:00 pm
Sunday: Closed